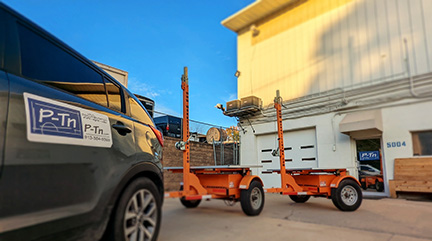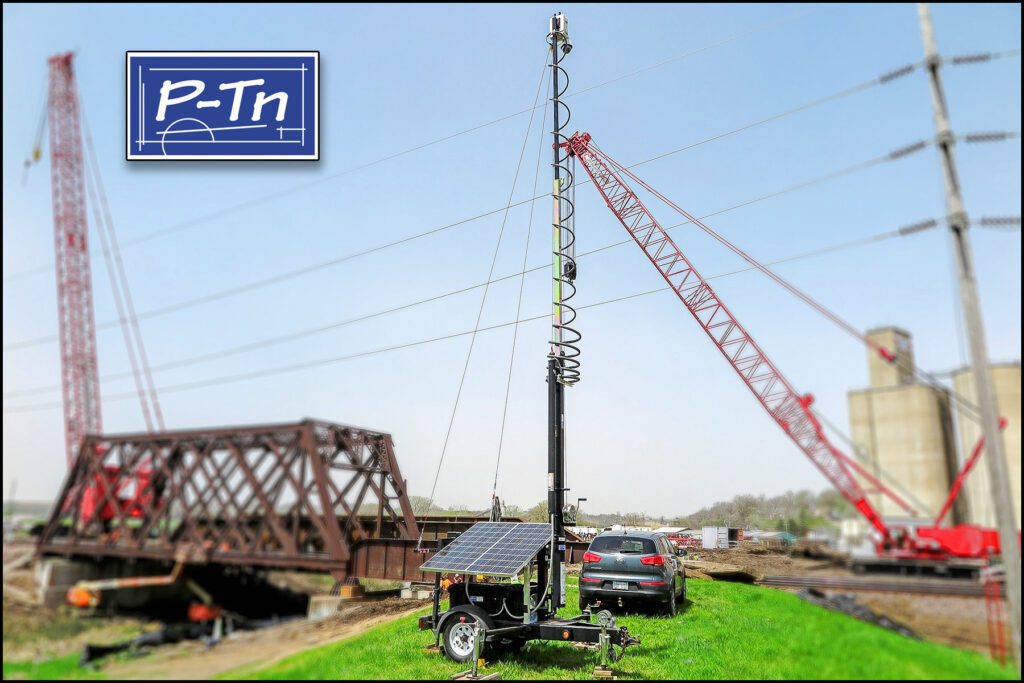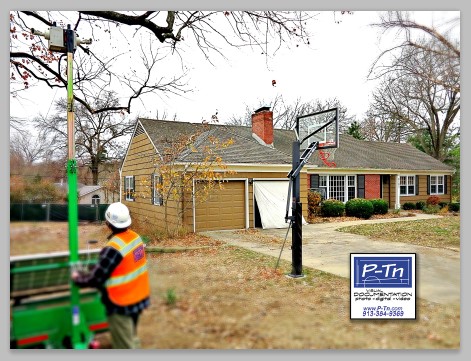 Our ProgressWEBCAM Site Monitoring Systems are often deployed using our Solar Trailer Units, providing a rapid and convenient approach for delivery & set-up at your local or out-of-state construction or development site. Eliminate the need for an electrical drop, wiring for power or internet, or installation of a pole for mounting.

These small-footprint trailers are solar powered, ready for mounting of our ProgressWEBCAM at virtually any location on any site that demands remote monitoring. Repositioning on the same site, or transport to another, are convenient options. Our ARCHIVEpics INTERFACE give you online access to archived daily site photos, and more. Wireless broadband and our programming provide 24/7-365 viewing of your site, infrared viewing at night, motion detection, and activity alerts sent directly to your phone for evaluation and action.
READ MORE …
The simplest way to place a P-Tn ProgressWEBCAM in operation on your site is to use one of our solar-powered units, mounted on a mast, on a trailer we deliver and set-up for you.  Eliminate the cost and logistical delays of installing a wood pole [having to move or (re)move it later on?], mounting the camera itself, and bringing in electrical power & internet access and wiring to the camera location.  Each unit offers our Pan-Tilt-Zoom ProgressWEBCAM atop a 20+foot mast on that trailer, with an option for solar power; the internet connection is wireless, of course.  Our trailer-based ProgressWEBCAM is a turnkey approach that gets the job done quickly – perhaps in as little as a few days.

Once activated, you access PICS of your site activities captured throughout each work day, delivered through a customized online ARCHIVEpics INTERFACE – available 24/7 to your project team.  Find out what you need to know during a brief online visit, rather than a trip to the site location.  Save time, reduce the number of required trips, and improve communication with site personnel.  Perhaps you'll want to log in to the LIVE VIEW and operate the pan-tilt-zoom yourself.  You might search previous site photos or 'PICS' through the convenient calendar date/time archive, where you can compare images from different days, share copies via email, or view an updated time-lapse movie of the entire build.  Use the stored 'PICS' images as needed for reports or communications during construction.  The finished Time-lapse Video will be a valuable asset for marketing activities, and posting to your business web site or social media posts.

Our Solar Trailer is the ideal approach for utilizing our security and advanced monitoring options.  The small footprint of the trailer (about 10×10 feet or less) allows placement almost anywhere, avoiding disruption of site activities and allowing the webcam to be placed out of the way.  During construction or development, repositioning is a convenient option, as there is no power requirement and the broadband connection is wireless.  Place the camera near the site entrance, or at your trailer location and material storage / laydown areas.  We can often deploy a trailer and activate monitoring in a few days, rather than several days or a few weeks to arrange logistics for a custom install on a pole or other structure.   

We have two models of Solar Trailer units.  One is equipped with a nearly 30-foot mast extension capability for specialized site locations.  Our most popular units have a 20 foot mast and a smaller footprint.  It is also lighter, weighing in under 1000 pounds, making it towable with most passenger vehicles or SUVs – two units may be towed in tandem, if needed.

The advanced webcam monitoring system is programmed for motion detection.  We use webcams with super-wide viewing (+/- 100 degrees) capabilities.  Limited infrared lighting is available, so 24/7 monitoring can often be achieved.  Motion detection will activate a lighted strobe at the camera, along with LED flood lights on the viewing area, and an optional sound-alarm so an intruder will know they have been detected.  An alert will be sent to your phone or computer, so you can evaluate the activity yourself.  And you will have the capability of accessing the webcam in LIVE VIEW, to see site activities at any time. 

FREE ON-SITE DEMO is available.  Let us connect you to one of your own projects by deploying our in-the-field DEMO ProgressWEBCAM Solar Trailer when it is available, and you can have the opportunity to experience these features yourself.   If you are seriously considering the benefits of our webcam solar trailer system, we'll arrange to place a DEMO unit on YOUR local (Kansas City Metro) job site for a week or ten days.  Our demo program is limited to availability, but don't hesitate to call and discuss this opportunity.  We offer both our compact/quick-mount AC powered units and our solar trailer units short-term demonstrations.  Both use wireless broadband.  The compact/quick-mount unit needs only a high quality extension cord at the mounting location.  The trailer unit is solar powered of course, so no need for electrical connections on that demo!  Just place in a sunny location.  
Click CONTACT here or in the navigation bar above to send us a personal inquiry about this article or any of our P-Tn Visual Documentation services – we'll follow-up right away