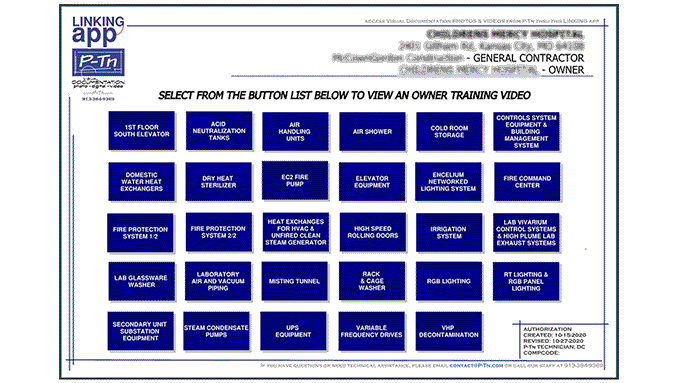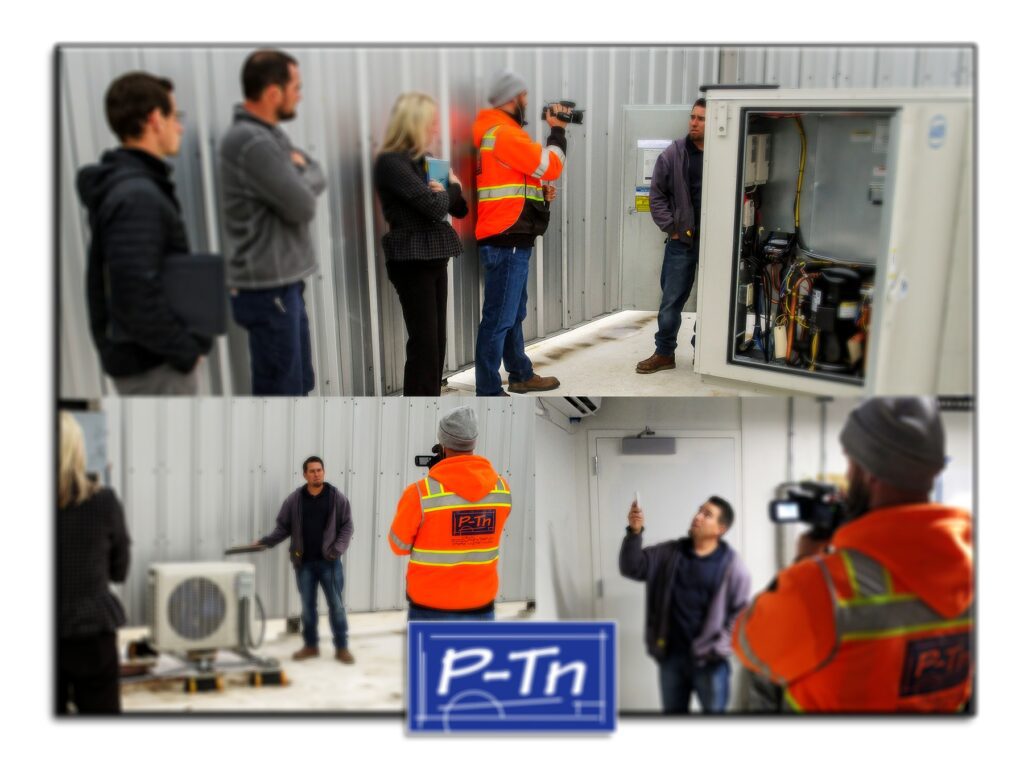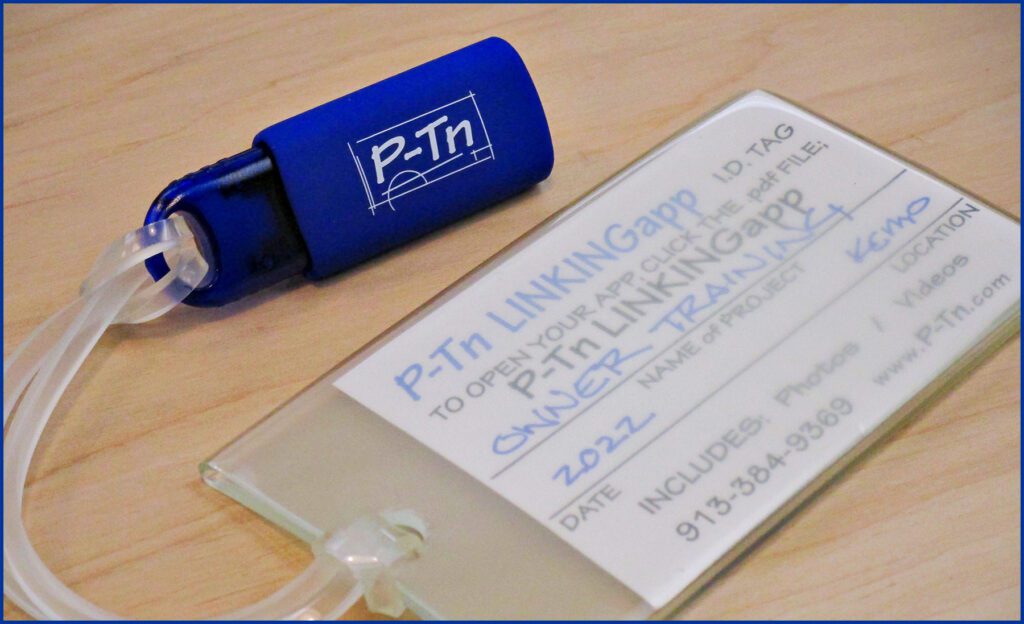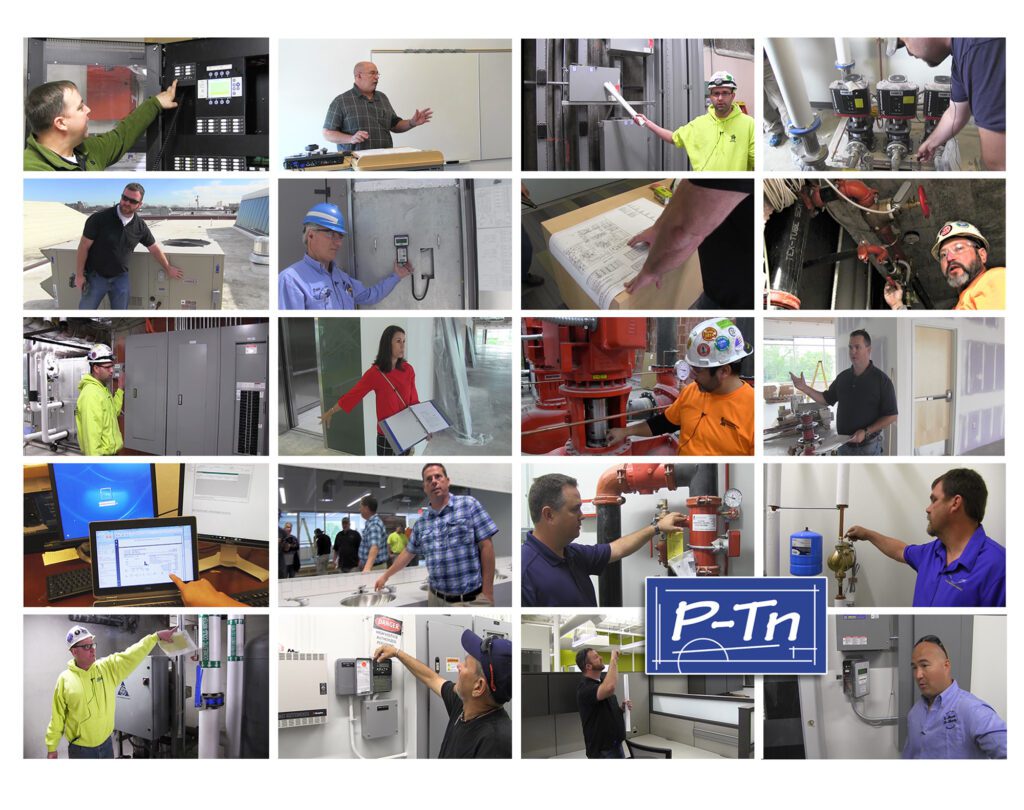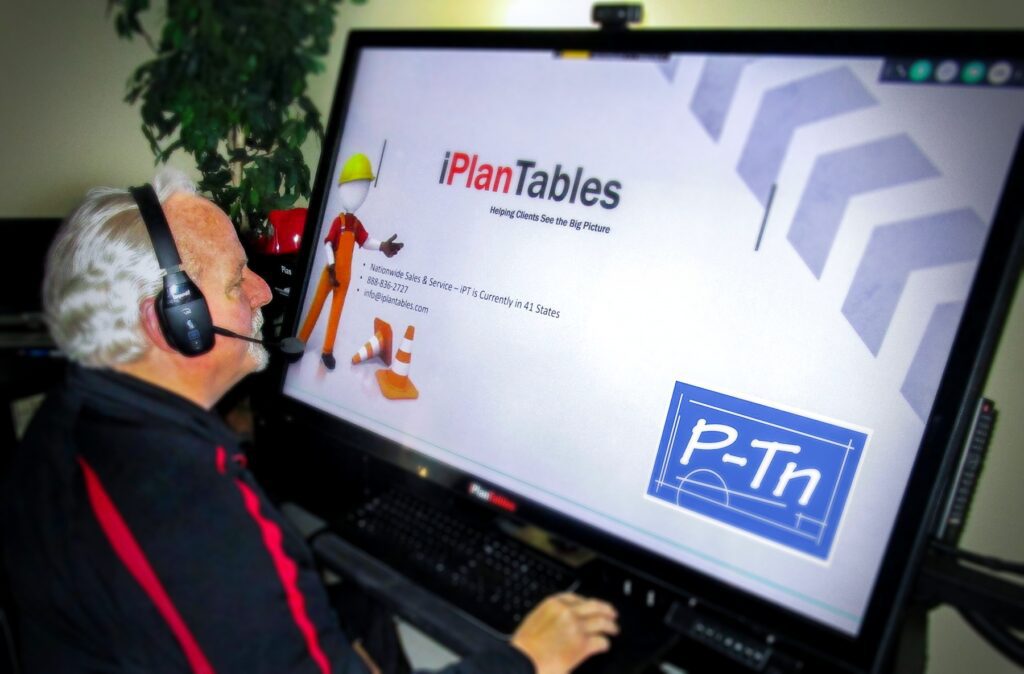 OWNER TRAINING SESSION RECORDING
This video illustrates our LINKINGapp deliverable for P-Tn OWNER TRAINING SESSION Recordings. We use this unique approach present videos of Mechanical System Owner Training Sessions with a high quality deliverable closeout for any project – valuable and useful to the Owner's Facility Management personnel for many years to come. 

You may be pleasantly surprised to learn the cost of having P-Tn handle this scope of work for you – professional quality video and audio recording is far less than you think.  We take the headache out of this important aspect of your closeouts, leaving you with only the scheduling of sessions and presenters. 

If you wish, we can add your PDF Operations Manuals, warranties, final inspection reports and other key equipment documents.  Let us know what you'd like included, and we'll make it happen. 
READ MORE…
Training of Owner Personnel on mechanical equipment systems operation and maintenance or other new-building functions is an important aspect of the project closeout process.  Often, it is a specification requirement that these sessions be video recorded for the owner's permanent archiving, and for future reference.  Professional-quality audio-video recordings, along with a user-friendly closeout presentation, bring added value to your relationship with that already satisfied client.

P-Tn will record all of those required training sessions for your project closeout. 

Not only will P-Tn handle this important closeout work for you, but we will deliver those videos using our LINKINGapp All Digital Delivery System, organized and accessible by training session title, for easy playback on any PC computer!  The sample [top video in the left column] shows how user-friendly we make our dashboard for Owner Training Video Viewing.  Impress the Owner, design team, engineer, subs, suppliers, and manufacturers with professional quality training session videos, along with access to many other related closeout documents.

Our Mechanical Training Session closeout scores points with the owner and the project design team.  

We routinely handle the recording of numerous individual training sessions, led by various equipment suppliers at completion of any new building project. This will lighten your load to focus on scheduling of those training sessions and leave the site logistics and details to us. We'll handle the video recording in those challenging lighting situations, manage audio sound recording (even in those noisy mechanical rooms) using wireless mics for the presenters, insure proper exposure & color balance (if extra or lighting adjustments are needed), coordinating recordings of Q&A sessions when needed, insure that video screens or computer monitor displays are visible, and any other logistics on site – indoors or out.  In short, we will insure that you see, and actually hear & understand what each presenter is teaching.  

We use our unique LINKINGapp approach for delivering videos of Mechanical System Owner Training Sessions, which makes for a quality deliverable to close out any project – something that will be valuable and useful to the Owner's Facility Management personnel for many years to come.  Our LINKINGapp is very popular for delivery, as it simplifies use of the training session for current and future personnel.  The owner's staff will be able to find the session they need, and playing it will be as simple as a click of the mouse.  They will appreciate the system you chose for delivery, and value it for years to come.

A cell phone is NOT the method of choice to record Owner Training Demonstrations.  You may be pleasantly surprised to learn the cost of having P-Tn handle this scope of work for you.   Professional quality video & audio may be far less expensive than you think.  We take the headache out of this important aspect of your closeout training, leaving you with "just" the scheduling of sessions and presenters (that's plenty of work in itself).  If you wish, we can add other electronic documents to the LINKINGapp Dashboard, such as pdf operations manuals, warranty paperwork, final inspection reports, certifications, and other key equipment documents.  Let us know what you'd like included, and we'll make it happen.   

It is challenging to schedule those Owner Training Demonstrations with subs and equipment suppliers on any project; the larger the project, the more complex that process becomes.  Adding the time and expertise required to record those sessions in often noisy and cramped locations, or on a roof, can make creating a useful deliverable nearly impossible sometimes.  Hand it off to P-Tn after you do the scheduling.   We'll take it from there … shoot the presentation, ensure good audio and proper exposure, cover the Q&A session too, if needed, then edit the imagery, label each session to the subject covered, and link it all into a single LANDING PAGE for access to each video recording (and any other associated documents you might include).  A set of USB thumb-drives will land on your desk — for you hand it off to the Owner – and you're done.

Are your subcontractors and suppliers or manufacturers responsible for delivering recordings of training sessions or presentations and operational instruction?  How's that working out?  Refer them to P-Tn and we'll assist by coordinating with their representatives to complete their recordings and include them in the Owner Training Closeout you are assembling.  If this aspect of the closeout is totally on your major subs, P-Tn will work with the entire project team to insure that the final deliverable will meet the spec requirements and make a great final impression on the owner.

You may discover that the volume of unnecessary phone calls and questions will fade away when you place a quality P-Tn Owner Training Closeout in the hands of the new Facility Management Personnel.  Fewer headaches for everyone involved.  Time & money saved for months and years to come!

Our P-Tn Owner Training LINKINGapp is a Game-Changer!  Seriously … does your current approach provide a professional level of audio / video quality?  Does it offer this level of ease in finding & playing those training videos?  Can it deliver the other electronic documents associated with mechanical system training, all in one place?  If not – let us assist.

Include an iPlanTables Interactive Wide-format Touchscreen Workstation.  Deliver the Owner Training Session Videos, along with all of the other electronic closeout documents for the entire project in the ultimate final 'package'.  Load everything into an iPlanTable and hand it off to the Facilities Management Department Office.  If you've been using an iPlanTable Workstation throughout the construction process, that work is already done!  The owner's personnel will have everything at their fingertips – literally – on a wide format touchscreen workstation that will permit viewing of all closeout documents in one place.  Plan sheets can be viewed at full scale; no zooming and scrolling around.  At the end of your project, give the new Owner an impressive user-friendly electronic iPlanTable closeout. There are many models and price points to consider, with models ranging from the Desktop Commander, to the budget line, to 49-55″ monitor standard models, or multi-screen Hydra Systems.

Learn about our P-Tn LINKINGapp All-Digital Delivery System for everything from photos to videos to drone aerials.  

We've been delivering our LINKINGapp for years, and it has become the method of choice for all our documentation work.  Whether still photographs or narrated video, the imagery we capture is linked directly to your original plan sheets.  You simply refer to the page you need, and our links take you directly to the photo or video clip you need to see.  HI-RES digital capture allows you to zoom into the photos, and the video will use your standard player, so you can scroll to find the areas of interest.  Of course, the video delivers our professional narration, too.  The original imagery can be downloaded separately, should you need to isolate information or share what you found. 
Click CONTACT here or in the navigation bar above to send us an inquiry about any of our P-Tn Visual Documentation services.  We'll follow-up right away